Here's the last post in the "Top 10 of 2012" series: Tim's Ten Favorite Posts of 2012 (in no particular order).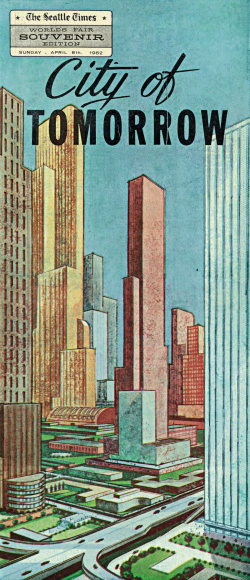 The Future of Seattle… According to 1962 – The Seattle Times graciously released their entire 1962 World's Fair souvenir edition paper as a pdf for anyone to download, and in addition to the general entertainment value, there were a few enjoyable real estate tidbits contained therein.
Avondale Albatross Finally Unloaded at 52% of '07 Price – I started following this spec home near Redmond way back in June 2006—less than a year after I started this blog. It's had a long, winding path, but hopefully the current owner will fare better than the 2007 buyer.
Seattle Population, Kids, & Ownership vs. Top 100 Cities – This one took a while to put together all of the data, and the results were an interesting way to look at the size of Seattle in a variety of different contexts.
Knife-Catcher: Year One Recap of Tim's Home Purchase – It was nice to look back over the first year and share what I have learned. The discussion on this post actually spurred me to look into refinancing barely a year after we bought our home, which actually ended up saving us quite a bit of money. Interest rates are insane right now.
Advice From an 11-Year Veteran Landlord – In response to an earlier reader question asking for recommended reading for landlords, a landlord wrote in with a wealth of advice based on over a decade of his own experience. This is a great example of the reason that I still keep Seattle Bubble going after all these years.
Friday Flashback: "You will never see a major housing price crash here." – The whole Friday Flashback series is enjoyable, but Steve Tytler's classic was especially fun thanks to his May 2007 invitation: "You can save this email and throw it back in my face 5 years from now if I am wrong, but I'll bet you a beer that I'm right." Heh.
Pro Tip: LeakFrog to the Rescue – Speaking of first-hand experience, this little green gadget caught a few minor water issues in our house before they had a chance to become major issues. Highly recommended.
Real Actual Listing Photos: What. The. Heck. – I love the entire series of Real Actual Listing Photos posts, but this one is my favorite of 2012, hands down. Ghost jogger, creepy dolls… This home has it all. On a related note, after being on the market off and on since July 2007, this home finally sold on December 17. Honorable mention in Real Actual Listing Photos goes to The Lonely Pianos.
False Advertising: Home Builder Renderings vs. Reality – Speaking of photos, it was amusing to see just how different the new homes in home builder advertisements are from what they actually build. There's nothing quite like a good old fashioned bait and switch.
Buy vs. Rent: A Real Life Pre-Peak Example – Theories and assumptions can only get you so far. Once in a while it's instructive to look at a real life scenario to put some hard numbers to the kinds of scenarios we regularly talk about on these pages.
Well, that wraps things up for my 2012 Top 10 lists. What were your favorite posts?